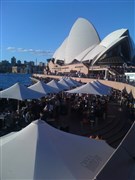 Marilyn Thien

Expires
Monday, 30 September 2013
M's First Bridge Run
Dear Friends and Family
I have not done anything like this before and decided to have a go at it this year. It is one of my NY Resolutions to be fitter ! It will be challenging for me because as those close to me already know, I don't enjoy running unless I am playing a sport and chocolates are my biggest weakness!
Basically, I'm taking part in the Blackmores Sydney Running Festival 2013 and hoping to raise much needed funds for charity. I have selected Alzheimer's Australia as my preferred charity.

This September, I'm going to be sweating it out and doing my best to complete a 9 km course over the Harbour Bridge, around Sydney's CBD and finishing at the Opera House steps...
I am honoured to be a part of this amazing race and helping a great cause, and I'd really appreciate your support in this endeavour.
ALL donations you give go directly to charity, so click on DONATE NOW!
Thank you for your support and helping to make a difference!
Cheers
Marilyn

Alzheimer's Australia NSW
JOIN THE FIGHT AGAINST DEMENTIA
Dementia is the 2nd leading cause of death in Australia and there is NO cure
More than 350,000 Australians are living with thousands more diagnosed each week. It is not a normal part of ageing and can affect people as young as 30. Alzheimer's Australia aims to give people living with Alzheimer's disease and other forms of dementia the respect they deserve and the services and support they need, whilst raising community awareness and understanding of dementia.
For more information visit FIGHTDEMENTIA.ORG.AU
FUNDOMETER
Target
$500
Raised So Far
$1,065
Biggest Supporters:
Suncorp Bank: $300.00
Gavin Landers: $100.00