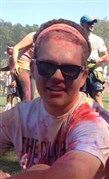 Wade Penman

Expires
Sunday, 22 September 2013
Wade's 9km Run For The Australian Autism Spectrum

I'm taking part in the Blackmores Sydney Running Festival 2013 and hoping to raise much needed funds for charity.

This September, I'm going to be sweating it out and doing my best to complete a gruelling 9km course over the Harbour Bridge, around Sydney's CBD and finishing at the Opera House steps...
I am honoured to be a part of this amazing race and helping a great cause, and I'd really appreciate your support in this endeavour.
ALL donations you give go directly to charity, so click on DONATE NOW!
Thank you for your support and helping to make a difference!

Autism Spectrum Australia (Aspect)
Every four hours an Australian child is diagnosed with autism and 1 in 100 Australians of all ages has an autism spectrum disorder. People may have trouble with social interaction, communication and have restricted and repetitive interests and behaviours. Autism Spectrum Australia (Aspect) is the largest not for profit provider of autism services in the country. We work with over 10,000 people with autism and their families every year. Being on the autism spectrum is life-long. There is no cure but there is hope. Our evidence-informed approach is designed to help families achieve the best opportunities and help people with autism reach their full potential.
FUNDOMETER
Target
$700
Raised So Far
$805
Biggest Supporters:
Suncorp Bank: $300.00
Tracy Penman: $100.00