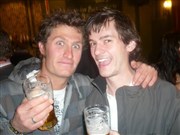 Craig McGowen

Expires
Thursday, 31 October 2013
Running For ANZUP
I've always wanted to muster the motivation and courage to run a marathon, and never really managed it. I got close once, but then laziness got the better of me. This year however, I've changed my tune.
Earlier this year a bunch of us lost our good mate Slammin Sam. In an attempt to provide me with that necessary motivation to conduct the endless, boring hours of training, I've decided to raise some money for ANZUP Cancer Trials, which is the chosen charity the family has chosen.
I'd love for everyone who has some spare coin to help me in raising some money for this worthwhile cause which will hopefully help others in not having to lose a great family member or mate.
ALL donations you give go directly to charity, so click on DONATE NOW!
Thank you for your support and helping to make a difference!

ANZUP Cancer Trials Group Limited
ANZUP performs non-industry-sponsored clinical trials in genitourinary tract cancers (prostate, kidney, bladder,
testis). These cancers are common and you or someone you love have probably been touched by one of them.
Better treatments are needed but resources to support these trials are scarce. Your donation, large or small, will
go directly to support trials to improve outcomes for people with these cancers.
FUNDOMETER
Target
$2,000
Raised So Far
$3,000
Craig McGowen reached his target of $1,100.00 and qualified for a $135.00 rebate but chose to leave it with ANZUP Cancer Trials Group Limited to help make a difference.
Biggest Supporters:
Suncorp Bank: $300.00
Craig McGowen: $132.72